Our Bolt Home Inspections come with a FREE lifetime subscription to Home Binder a ($360 value).
With Home Binder it's like having a Digital Folder Online. Save Documents, Receipts, Etc….   Stay organized knowing which maintenance items are in need at any give time.
File away appliance information and get recall notices if they ever come up. Painted a room, store the paint codes in your binder, no more guessing if you ever need to touch up a room what the color was.
Organize your favorite Contractors and handy men, real estate agent, etc.  Always available and within reach your folder will keep you organized.  You can input any work you have done for example, did you replace the roof or a water heater?
Great put the information in your  binder and upload receipts of the work and dates. It will all be filed, and ready for you to view any time you need.
Let's not forget if you are Selling your home, you can transfer your binder to the next owner, so they can have all this information on hand!  Watch this Short Video and learn about what this Free Subscription brings you.
Ask your Real Estate Pro if they are providing you with a Home Binder Lifetime subscription???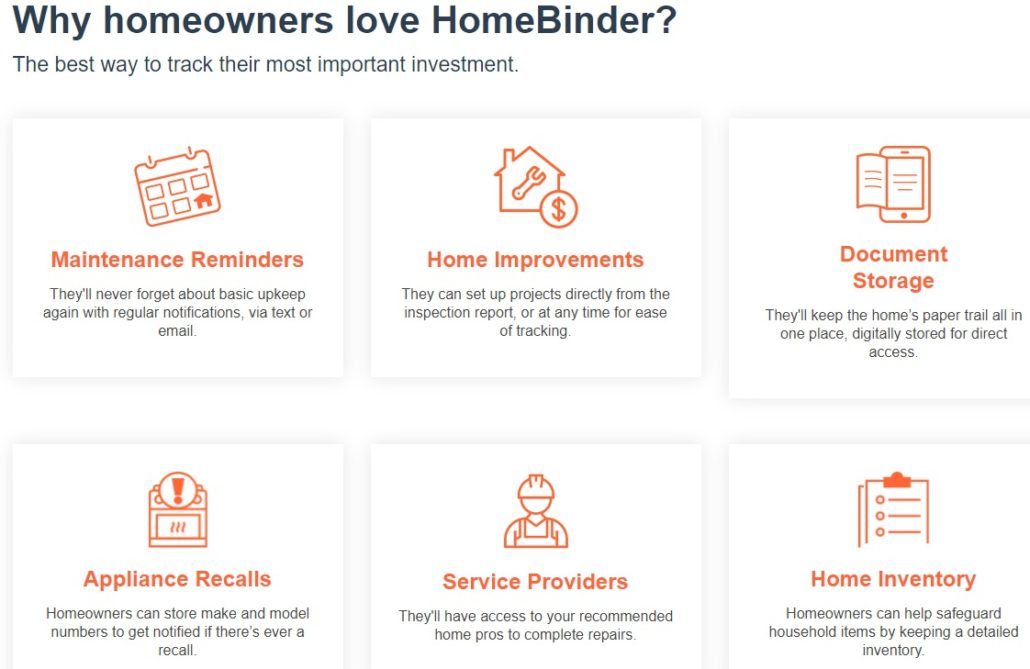 Calling all Real Estate Agents 📣
Get in on the Action with Bolt Home Inspections. We will provide a Subscription to your Buyers with the home inspection your refer.
With the binder subscription your Name will be front and center every time your client logs in to their account.
This is priceless, stay top of mind for years to come; get referrals, when it's time to sell the home, who is there for them?  You Will Be!
Book a Home Inspection with us today Here
Or Call us Direct to discuss your needs at 866-BOLT-678